Scottish Highland Dancing
Scottish Highland Dancing
Since early 2008, our daughters have been involved with our local Scottish Highland Dancing school.
It may come as a surprise that Scottish Highland dancing exists South of the Border, and specifically across the Midlands and Home Counties, but there are several dance schools throughout this area and the members regularly meet in order to dress up in their tartans and take part in competitions in locations as widely spread as Colchester, Harrow, Harpenden, Peterborough, Corby, Ashbourne and Chatsworth House in Derbyshire.
Many of these competitions coincide with "Highland Gatherings" or "County Shows" and often include Scottish Pipe and Drum events and Highland Games. Whilst many of these are based around areas with a large Scottish contingence amongst the populace, there is no barrier to Sassenachs like our daughters joining in. (Though they do have Scottish blood from Sam's side of the family if you go back to their great great grandparents.)
During the competitions, the dancers are split into groups according to age and ability, and then compete in a selection of energetic, and peculiarly phonetically named, dances wearing colourful, and frighteningly expensive, costumes.
For the uninitiated, or those like myself who have limited attention spans (especially after several hours in an enclosed space listening to the bagpipes), the dances all contain similar elements and seem to vary only by the costume being worn and the height of the leaps and kicks undertaken. The main styles are as follows:
Highland Dances:
These are danced in Kilts or trousers, waistcoat or blouse and hose (the thick woolly socks) and include the Fling, the Sword Dance, the Seann Triubhas (pronounced Shorn Trews) and the Reel (properly called the Half Tulloch). Leaping about whilst wearing between 5 and 7 yards of heavy tartan material made into a kilt is surprisingly good exercise...
National Dances:
These are usually danced in plain white dresses with a tartan plaid. (Boys are allowed to wear trousers.) These include the Lilt, the Blue Bonnets (though none are worn), the Flora and the Village Maid.
The Hornpipe:
Dancers have a choice of a Blue or White sailor's suit and is one of the "jollier" and more energetic of the dances.
Perhaps a little oddly, the Jig is more or less based on an Irish Jig and the dancers dance in Green or red outfits. It is quite an "angry" dance and involves a lot of foot stomping, fist waving and scowling.
Medals are awarded in each category usually to the first three places, though sometimes to the first four if it is a really large group. The overall winner in the each of the Highlands and the Nationals groups is usually awarded an overall trophy. From time to time, individual dances have a trophy attached to them. Competing is great, but winning a prize is even better:
| | | | |
| --- | --- | --- | --- |
| | | | |
Though not getting anything when you've danced your heart out, competing in a large group of much older dancers, is sometimes a little hard to take....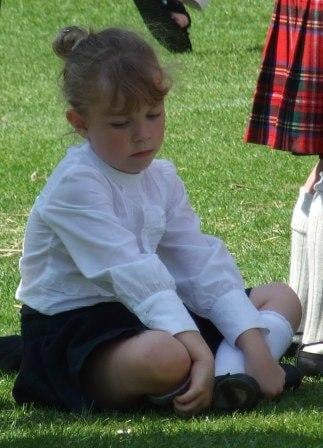 The girls attend dance school on Tuesdays and Thursdays throughout the year at the Sharon Radcliffe School of Dancing to learn new steps and practice those they already know. The competitions tend to take place on Saturday or Sunday Morning. As they have now both moved up through the groups, they tend to dance later in the day and thus don't need to travel the night before in order to avoid too early a start. This means that we no longer tend to close the shop to attend the competitions other than when they are competing in Harpenden (which we usually combine with a visit to Grandparents) and Ashbourne and Chatsworth, both of which involve a night in a hotel and a day out on the day before or after the competition.
The Girls aren't planning on competing much this year and when they do, the competitions will mostly take place on Sundays. Our plans for closing are as follows:
| | | |
| --- | --- | --- |
| Date | Event | Shop |
| 8th June 2013 | Scotland in Colchester Competition | Open as Normal |
| July 2013 | Harpenden Gathering Competition | Open as Normal |
| October 2013 | Theydon Bois Competition | Open as Normal |
| | | |
| | | |
| | | |
| | | |
| | | |
| | | |
| | | |
| | | |